The Newsboy's Strike
A Live Action Role Playing event about labor relations, in New York City during the summer of 1899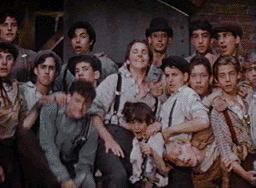 By Scott David Gray.
ATTENTION: This page is NOT current or complete! The game is a work in progress!
---
---
The Newsboy's Strike is a Live Action Role Playing (LARP) event. Each player in the event is given a character to portray. Each character has her/his own goals and personality.
The Newsboy's Strike can accommodate between X-Y players.
The Newsboy's Strike will last for 4 hours.
The Newsboy's Strike is not yet scheduled to run. Watch this space for updates.
---
---
---
---
Children:
Adults:
---
---
Familiarize yourself with the information on this web page, your character, and additional information sent to you. If possible, print out the information to bring with you to the event.
Make or obtain some costuming appropriate to your character(s).
Be sure to come to the event on time with your costuming. If you learn that there is any chance that you may be unable to attend after all, please inform the GM as soon as possible.
---
---
Bibliography
---
Other links that you may wish to review
---
---
For more information, please email sgray@unseelie.org.
This event is a Subterranean Homesick Games production.